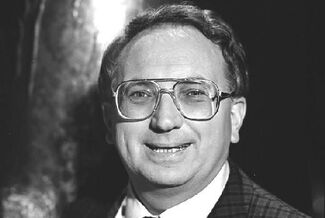 Frans van Dusschoten (1933-2005) was a Dutch comedian, impersonator, and voice actor arguably best known for voicing dozens of characters on the puppet series De Fabeltjeskrant from 1968 until 1989, along with Ger Smit and Aart Staartjes.
In 1974, Van Dusschoten was heard in Sesamplein, the pilot for what would become Sesamstraat, dubbing Kermit the Frog, Ernie, and the diver in "Octopus' Garden." Nearly a decade later, in 1983, the actor was cast as Gobo Fraggle and Pa Gorg in De Freggels, the Dutch dub of Fraggle Rock.
His other credits included Brainy, Painter, Farmer, and other characters in The Smurfs and various radio series. In addition, Van Dusschoten served as the stooge and right-hand man of comedian André van Duin for about two decades.
External links