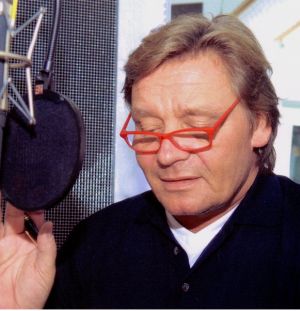 Frank Muth (b. 1959) is a German voice actor who dubbed Dr. Teeth in the Studio DC: Almost Live specials and Die Muppets: Briefe an den Weihnachtsmann (A Muppets Christmas: Letters to Santa)
Muth has dubbed David Hasselhoff in several cameo roles (including Piranha 2 and Stretch), Ty Burrell in Evolution, Giancarlo Esposito in Smoke, Jonathan Hyde in Crimson Peak, Lani John Tupu in Robotropolis, Kelsey Grammer in Middle Men, and various guest actors in the Law & Order franchise. Animation roles include James Rhodes/War Machine on Iron-Man and Spider-Man, Mr. Sinister and Banshee on X-Men, Ironhide and others on Transformers, and Barry White and small parts on The Simpsons.
On-camera, Muth had a supporting role in the 1979 French film L'adolescente and appeared in episodes of the German crime dramas Tatort, Der Alte, Derrick, and other series. He recurred on the soap opera Verbotene Liebe as journalist Roland Hansen (2001-2002).
External links
Ad blocker interference detected!
Wikia is a free-to-use site that makes money from advertising. We have a modified experience for viewers using ad blockers

Wikia is not accessible if you've made further modifications. Remove the custom ad blocker rule(s) and the page will load as expected.