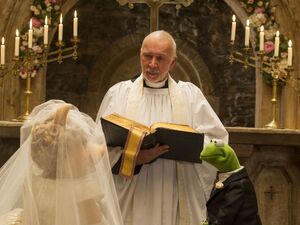 Frank Langella (b. 1938) is an actor of the stage and screen, working in show business since the 1960s. He has played several iconic characters including Dracula, Zorro, Sherlock Holmes, Perry White, and Richard Nixon.
In Muppets Most Wanted, Langella plays a minister at Miss Piggy's wedding.
Ad blocker interference detected!
Wikia is a free-to-use site that makes money from advertising. We have a modified experience for viewers using ad blockers

Wikia is not accessible if you've made further modifications. Remove the custom ad blocker rule(s) and the page will load as expected.