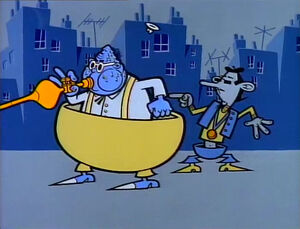 Frank Gresham is an animator who directed, animated, and designed two inserts for Sesame Street in 1994. One had two jazzmen demonstrating beginning, middle, and end with a long horn (First: Episode 3266). In the other, a circus bear and seal learn to cooperate and share the ball for their performance. (EKA: Episode 3295)
Gresham worked on the Nickelodeon series Kablam!, animating on Mo Willems' "The Off-Beats" segments and directing "Sniz & Fondue." He storyboarded the MTV series Downtown, directed episodes of The Cramp Twins and Dennis and Gnasher, and was an assistant animator on the feature film Chicago 10.
External links
Ad blocker interference detected!
Wikia is a free-to-use site that makes money from advertising. We have a modified experience for viewers using ad blockers

Wikia is not accessible if you've made further modifications. Remove the custom ad blocker rule(s) and the page will load as expected.