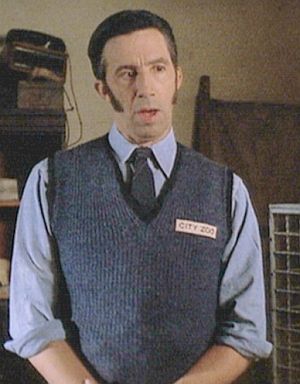 Frank Collison (b. 1950) is a character actor who appeared in the 1997 Creature Shop-effects film Buddy as a zookeeper.
Collison, often cast as eccentrics or rural types, was a regular on Dr. Quinn, Medicine Woman as telegrapher Horace Bing for the run of the show (1993-1998). He also appeared on My Name Is Earl (recurring as Kenny's Dad), Good Luck Charlie (four episodes as Vern), Carnivàle (as barker Jasper), and one-shot roles on Night Court (as a carnival freak who eats anything), Quantum Leap, NYPD Blue, Monk, and Star Trek: The Next Generation (as Cardassian Gul Dolak), Film credits include O Brother Where Art Thou, The Majestic, the 1988 version of The Blob, the 2002 film Hope Springs, The Lawnmower Man, The Village, Hidalgo, Alien Nation (as an alien), The Happening (as a helpful nursery owner), and Hitchcock (as Ed Gein's brother).
External links
Ad blocker interference detected!
Wikia is a free-to-use site that makes money from advertising. We have a modified experience for viewers using ad blockers

Wikia is not accessible if you've made further modifications. Remove the custom ad blocker rule(s) and the page will load as expected.