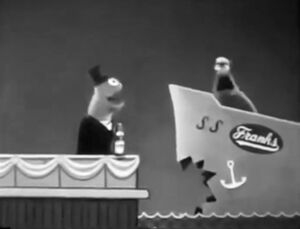 Frank's Beverages is a Philadelphia-based soft drink company. From 1961 to 1963, Muppets, Inc. produced seven 8-second TV ads for the product Frank's Orange Nectar.
The ads starred Wilkins and Wontkins, renamed "Frank" and "Fink" in these spots. In one ad, Frank is christening a boat with a bottle of Frank's Orange Nectar. Fink refuses to try some, and the vessel sinks.
Ad blocker interference detected!
Wikia is a free-to-use site that makes money from advertising. We have a modified experience for viewers using ad blockers

Wikia is not accessible if you've made further modifications. Remove the custom ad blocker rule(s) and the page will load as expected.