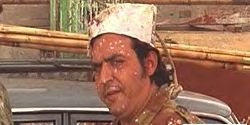 Franco Latini (September 12, 1927 - February 2, 1991) was an Italian voice actor who dubbed many characters in Il Muppet Show, the Italian translation of The Muppet Show. His roles included Gonzo, Floyd Pepper, Robin the Frog (renamed Alfredo), Zoot, Beaker, The Swedish Chef (in some segments), Dr. Julius Strangepork, Hilda, Lew Zealand, Pops, and various minor characters.
In film, Latini appeared on-camera in the "mondo" pseudo-documentary film Mondo pazzo... gente matta!. He re-dubbed the voice of Stan Laurel in the Laurel and Hardy shorts and features, and his extensive animation resume included Donald Duck, Bugs Bunny, Daffy Duck, Yosemite Sam, Pebbles in The Flintstones, Bullwinkle and the Narrator in The Bullwinkle Show, Top Cat, Tom in Tom and Jerry, and Skeletor in He-Man and the Masters of the Universe. His son Fabrizio Vidale also became a voice actor, heard in several Muppet/Creature Shop dubs. He also had two daughters Laura Latini (1969-2012) and Ilaria Latini, who also became voice actresses.
Latini died of a stroke in Rome on February 2nd 1991 at the age of 63.
External links