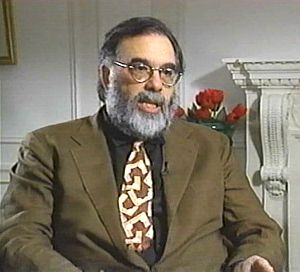 Francis Ford Coppola (b. 1939) is an American film director best known for directing The Godfather trilogy, and winner of one Academy Award for best director (The Godfather II) and sharing two for best screenplay (The Godfather and Patton). His other films include Apocalypse Now, Tucker: the Man and His Dream, and Michael Jackson's Captain Eo (produced by George Lucas; co-starring Anjelica Huston and the late Dick Shawn).
Coppola was interviewed in the documentary The World of Jim Henson. He also served as executive producer of the Creature Shop film Buddy and TV movie The Odyssey, and had intended to produce the unrealized film version of Into the Woods.
Miss Piggy jokingly refers to Kermit as "Francis Ford Froggola," when he directs The Fantastic Miss Piggy Show.
External links
Ad blocker interference detected!
Wikia is a free-to-use site that makes money from advertising. We have a modified experience for viewers using ad blockers

Wikia is not accessible if you've made further modifications. Remove the custom ad blocker rule(s) and the page will load as expected.