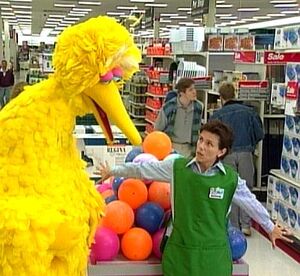 Frances McDormand (b. 1957) is an actress who won the Academy Award for Best Actress in 1997, for Sheriff Marge Gunderson in Fargo. She is also a three-time Academy Award nominee for Best Supporting Actress. Married to Fargo producer/director Joel Coen, McDormand has appeared in several Coen Brothers films, including Blood Simple, Raising Arizona (with John Goodman), Miller's Crossing, and The Man Who Wasn't There (both with Jon Polito). Other movies include Madeline (as Miss Clavel), Lone Star, Almost Famous, and North Country (with Sean Bean).
In 1998, McDormand starred in the Sesame Street video Big Bird Gets Lost, as Frances, an ABCDMart employee. Frances struggles to stack a display of large rubber balls, only to have the pile repeatedly disturbed. Despite her frustrations, she helps Big Bird to find his lost friend Maria.
McDormand considered her video appearance one of the benefits of being an Oscar winner:
"

I think that the best things that came out of it were the chance to do Blanche [in A Streetcar Named Desire on stage] and also I did a Sesame Street Big Bird video that was very satisfying to me. And I don't think I would have been asked to do that if I hadn't reached a little bit higher profile in the 'industry.' That was really rewarding. [1]

"
Sources
External links
Ad blocker interference detected!
Wikia is a free-to-use site that makes money from advertising. We have a modified experience for viewers using ad blockers

Wikia is not accessible if you've made further modifications. Remove the custom ad blocker rule(s) and the page will load as expected.