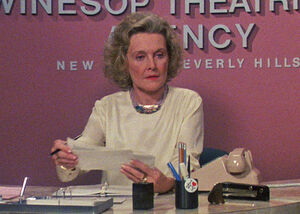 Frances Bergen (1922-2006) was an actress and a former model in the 1930s, the wife of Edgar Bergen, and mother of Candice Bergen. She made a cameo appearance in The Muppets Take Manhattan as Leonard Winesop's secretary. She had previously appeared briefly in the special The Muppets Go Hollywood, arriving with Candice and son Kris Bergen.
Bergen's film credits range from the 1953 version of Titanic (as Madeline Astor) to Made in America (1993, with Whoopi Goldberg and Ted Danson). On television, she was a regular on the Western Yancy Derringer as gambling house proprietor Madame Francine and appeared on The Jack Benny Program (both solo and with husband Edgar) and on Murphy Brown with daughter Candice.
External links
Ad blocker interference detected!
Wikia is a free-to-use site that makes money from advertising. We have a modified experience for viewers using ad blockers

Wikia is not accessible if you've made further modifications. Remove the custom ad blocker rule(s) and the page will load as expected.