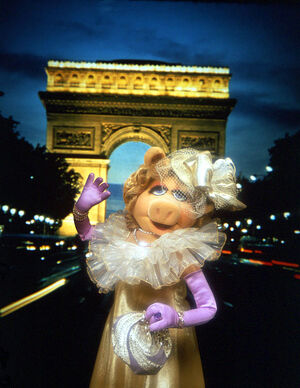 France is a European nation famed for its cuisine, the Eiffel Tower, and a populace stereotypically marked by snooty accents and moustaches. The country donated the Statue of Liberty to the United States of America. Miss Piggy has famously affected a French accent and a Parisian sophistication. In Muppet Treasure Island, an indignant Benjamina Gunn (played by Piggy) claims her mother came all the way from France for the wedding to Captain Abraham Smollett.
The French language is spoken in Canada and figured in some early Sesame Street episodes and quite heavily in Sesame Park, particularly through Louis, the Francophone Otter.
In the same film, Miss Piggy is shown to be working as a plus-size fashion editor at Vogue Paris.