Hallmark released a Fraggle Rock stationery set in the mid 1980s. The set included decorated paper, envelopes, and stickers featuring Gobo, Red, Boober, and two Doozers.
A set of additional back-to-school stationery supplies, this time drawn by Guy Gilchrist, appear in an catalogue page / advertisement from the Muppet Stuff store. These were from Empire and included 3 pencils, a ruler, 12 coloring pencils, a pencil sharpener and a storage box, and could be seen lying around Gilchrist's studios at the time.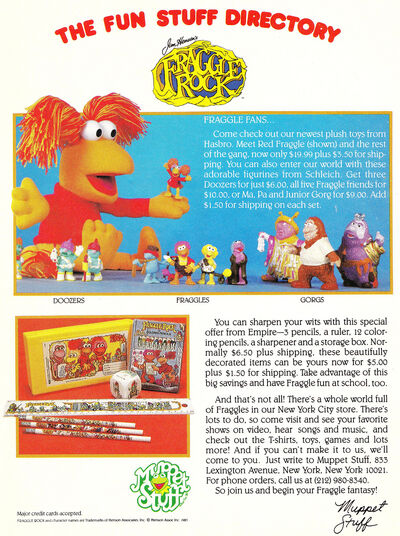 Ad blocker interference detected!
Wikia is a free-to-use site that makes money from advertising. We have a modified experience for viewers using ad blockers

Wikia is not accessible if you've made further modifications. Remove the custom ad blocker rule(s) and the page will load as expected.