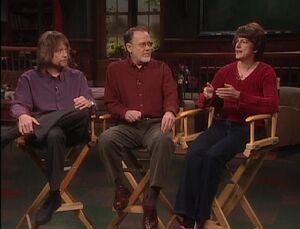 All new interviews with Fraggle Rock creators and puppeteers were recorded in March 2005 for the Fraggle Rock: Complete First Season. Independent interviews and group panel-like discussions with Jerry Nelson, Karen Prell, Steve Whitmire, Dave Goelz, Jerry Juhl, Susan Juhl, Duncan Kenworthy, Jocelyn Stevenson, and Lawrence Mirkin were featured, as well as "never-before-seen" footage, concept art, and production pictures. Ther footage included the Muppeteer's mock auditions with the early characters (Steve Whitmire as Gobo and Jerry Nelson as Wembley; Karen Prell as Mokey and Kathy Mullen as Red). The documentary includes over 100 minutes of new material.
Topics discussed
Origins
Music
Design
Writing
Finding a Voice
Casting
Collaboration
Credits
Produced by: Lawrence S. Mirkin
Edited by: Brian Karn
Photos courtesy of: Terry Angus, Phil Balsam, Susan Juhl, Lawrence S. Mirkin, Nancy DePra, Karen Prell, Gord Robertson, and The Jim Henson Company
Special Thanks to: Karen Falk, Carla Dellavedova, Deb Mayer, and Martin Baker
Ad blocker interference detected!
Wikia is a free-to-use site that makes money from advertising. We have a modified experience for viewers using ad blockers

Wikia is not accessible if you've made further modifications. Remove the custom ad blocker rule(s) and the page will load as expected.