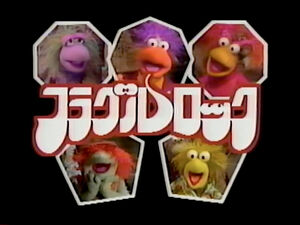 フラグルロック is Fraggle Rock dubbed in Japanese. It was broadcast on NHK starting in 1985.
In 2012, Japanese fans petitioned NHK for a rebroadcast or DVD re-release of the show. In response, NHK apologized and stated that this was impossible, as the masters of the Japanese dub had been lost.[1]
Voices
Notes
The original logo remains intact at the beginning of the credits.
Gallery
References
↑ "お願い!編集長|ごめんなさい". NHK Online. December 2012.
Ad blocker interference detected!
Wikia is a free-to-use site that makes money from advertising. We have a modified experience for viewers using ad blockers

Wikia is not accessible if you've made further modifications. Remove the custom ad blocker rule(s) and the page will load as expected.