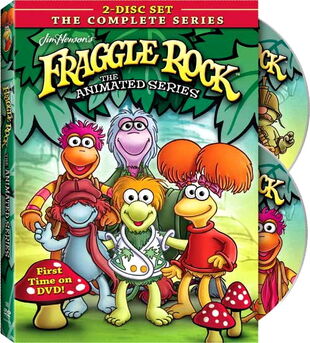 Jim Henson's Fraggle Rock: The Animated Series: The Complete Series is a 2-DVD set of the animated version of Fraggle Rock, which aired on NBC from 1987 to 1988. The set was released on January 19, 2010.
The set includes the show's 13 episodes, and additional extras, including "Fraggle Rock Character Galleries" and "Original Opening Storyboard Sequence",[1] plus a featurette with co-producer Michael Frith.[2]
Contents
Episodes
Bonus Features
"Fraggle Rock: Animating the Adventures", featurette with co-producer Michael Frith
Character Galleries, background descriptions on the characters made by the writers of Fraggle Rock, to the writers on the animated series.
Original Opening Storyboard Squence
See also
Sources
↑ "Fraggle Rock: The Animated Series - Lionsgate Releasing The Complete Series DVDs: Details and Packaging", TVshowsondvd.com. October 26, 2009.
Ad blocker interference detected!
Wikia is a free-to-use site that makes money from advertising. We have a modified experience for viewers using ad blockers

Wikia is not accessible if you've made further modifications. Remove the custom ad blocker rule(s) and the page will load as expected.