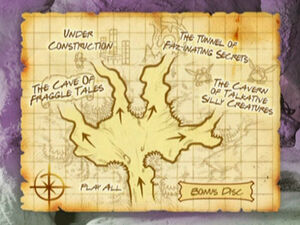 The 2007 Fraggle Rock: Complete Third Season DVD box set features new interviews with Fraggle Rock creators and cast members, including Karen Prell, Steve Whitmire, Dave Goelz, Kathryn Mullen, Michael Frith, Jocelyn Stevenson and Gerry Parkes.
The extra features also include "never-before-seen" footage, concept art, and production pictures. The interviews and bonus features are also sprinkled with a collection of original HBO promos created to promote the show's initial run.
The featurettes comprise more than 150 minutes of new material.
The Cave of Fraggle Tales
Season 3 Overview (31:03)
Features Jocelyn Stevenson, Lawrence Mirkin, Bob Sandler, Karen Prell and Kathryn Mullen.
Scared Silly – Art Imitating Life (09:45)
Features Dave Goelz, Steve Whitmire, Jocelyn Stevenson, and Tim McElcheran.
HBO Promo: Traveling Matt's Coming Attractions (02:43)
HBO Promo: The Minstrels (00:30)
Under Construction
Production Design (12:34)
Features Michael Frith, Lawrence Mirkin and Bill Beeton.
How the Trash Heap Came to Be (04:37)
Features Michael Frith.
HBO Promo: Doc and Sprocket Sweepstakes (01:59)
HBO Promo: Capture the Moon (00:30)
The Tunnel of Faz-inating Secrets
Electro-Mechanical Puppetry (13:17)
Features Michael Frith and Tom Newby.
Features Tom Newby, Michael Frith, Kathy Mullen and Tim McElcheran.
Features Tom Newby, Tim Miller and Connie Peterson.
HBO Promo: The Terrible Tunnel (00:30)
The Cavern of Talkative Silly Creatures
Michael Frith Interview (13:50)
Kathy Mullen Interview (11:41)
Gerry Parkes Interview (06:10)
HBO Promo: The Challenge (00:30)