Fraggle Rock: Complete Third Season
Talk

11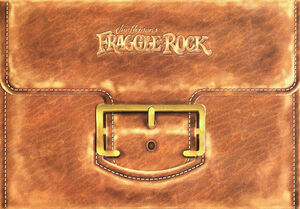 Fraggle Rock: Complete Third Season is a 5-disc DVD release of the third season of Fraggle Rock. The set includes 24 episodes, which originally aired in 1985 and 1986.
Disc Features
Disc 1
Disc 2
Disc 3
Disc 4
Disc 5
Other Features
Notes
Gallery
Awards
Production Seasons
The selection of episodes included in this set doesn't quite match up to the third season as originally broadcast on HBO. Fraggle Rock was produced in four seasons of 24 episodes each, but HBO split up the episodes to stretch the show into five broadcast seasons.
Season 3 was produced as 24 episodes, but broadcast as 22 episodes. The final two episodes of the season -- "Wembley's Wonderful Whoopie Water" and "Sidebottom Blues" -- were held over, and broadcast as the second and third episodes of season 4.
Season 4 was also produced as 24 episodes, but broadcast as 13 episodes -- including the two leftover episodes from the previous season. The final 13 episodes were broadcast in the following year as season 5.
HIT Entertainment's intention was to produce four DVD sets, following the original production seasons. [1] However, that intention has not played out perfectly, as this Complete Third Season set includes "Sprocket's Big Adventure", which was produced as part of the fourth season, instead of "Sidebottom Blues", which will appear in the fourth season set.
References
↑ James, Greg. Fraggle Season Set Episode Confusion. The Muppet Newsflash. June 11, 2007.
External links