Fozziwig and Mom Ltd.
Talk

0
27,715pages on
this wiki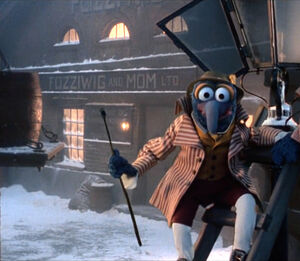 Fozziwig and Mom Ltd. was the old rubber chicken factory owned by Fozziwig (and Mom) in The Muppet Christmas Carol. In addition to artificial chickens, the factory also produced oversized shoes, which hung from the warehouse rafters, and party hats.
Fozziwig and Mom Ltd. was known for its annual Christmas party, marked by dancing, speeches, and singing grapes. The firm employed a young Ebenezer Scrooge as an accountant, who disapproved of such revelry. It was at one such occasion that Scrooge was introduced to Belle, a friend of the family.