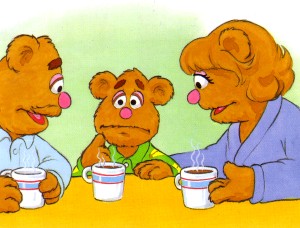 A young version of Fozzie Bear, as seen in the Muppet Kids books and video games.
Fozzie wears a propeller cap, his signature polka-dot tie, and (often) a pair of pants. He lives with his mom and dad, and his baby brother Freddie; right next door to his best friend Kermit. Fozzie is a bit insecure and sensitive, and his friendship to Kermit is very important to him. Fozzie likes jokes and spending time with his grandpa.
See also
Ad blocker interference detected!
Wikia is a free-to-use site that makes money from advertising. We have a modified experience for viewers using ad blockers

Wikia is not accessible if you've made further modifications. Remove the custom ad blocker rule(s) and the page will load as expected.