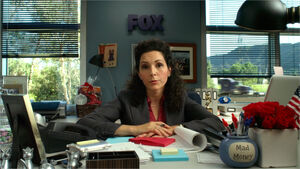 The FOX Broadcasting Company is a TV network which began in 1986. The Jim Henson Company produced a number of shows for FOX, including Dog City and The Animal Show, and daily reruns of Muppet Babies. CinderElmo was also originally broadcast on this network. FOX Television Studios co-produced The Muppets' Wizard of Oz with Touchstone Television and The Jim Henson Company.
Additionally, Farscape was originally planned to be shown on FOX (where it was going to be titled Space Chase), and in 2002, FOX made a deal with Henson to air an all-new Muppet show, which never reached fruition.[1]
The Muppets have also appeared on (and been referenced on) FOX News, the co-owned cable news channel.
References
External links
Sources