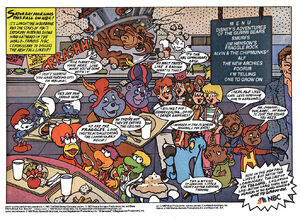 Foofur was a children's animated series made by Hanna-Barbera and Freddy Monnickendam which aired on NBC from 1986 to 1988 which followed the adventures of a blue dog named Foofur.
In 1987, the Fraggles appeared together in a print ad with Foofur and other NBC Saturday morning stars (Tummi and Zummi Gummi, The Smurfs, ALF, Alvin & the Chipmunks, and The New Archies.) Foofur remarks that the food is his kind of cooking, but a little heavy on radishes.
Connections
Ad blocker interference detected!
Wikia is a free-to-use site that makes money from advertising. We have a modified experience for viewers using ad blockers

Wikia is not accessible if you've made further modifications. Remove the custom ad blocker rule(s) and the page will load as expected.