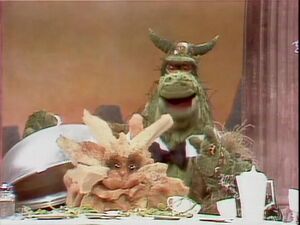 Food is a strange, brown, alien creature who made its first appearance as King Ploobis' Christmas dinner in The Land of Gorch sketch on the December 20, 1975 episode of Saturday Night Live.
The puppet made several further appearances in Muppet productions, including a cameo appearance on episode 422 of The Muppet Show as a trumpet player, and in The Muppets Big Book of Crafts. He subsequently appeared as a background creature on the first season of Fraggle Rock, making him one of the oldest puppets to appear on the series.
The puppet used as Food was recycled as Zsa Zsa Porkmustard, a contestant in the Miss Galaxy Pageant sketch on episode 101 of The Jim Henson Hour. The puppet also appeared in episode 102 as an undersea creature.