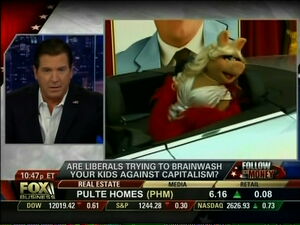 Follow the Money was a nightly television program on Fox Business Network.
Are liberals trying to brainwash your kids against capitalism?
On December 2, 2011 the program focused on the "message" of the film The Muppets. Host, Eric Bolling suggests that the movie has an anti-capitalism agenda by making the new Muppet "villain" a rich oil executive.
Guest Dan Gainor of the Media Research Center stated that the message of The Muppets is comparable to The Matrix, that "mankind is a a virus on poor old Mother Earth." Gainor asked why, just once, oil businessmen couldn't be portrayed as valuable, upstanding members of society.
The second commentator turns the focus to Sesame Street, talking about "the hungry Muppet, the starving Muppet"; the host suggests that there should be an evil Obama Muppet causing the hunger. One commentator defending the film suggests "McDonald's has about seven different ways to pressure their parents, if marketers have access to our children, why shouldn't we be telling them the truth about our corporations"; Bolling retorts that "we're teaching our children class warefare. where are we, communist China?"
Media reaction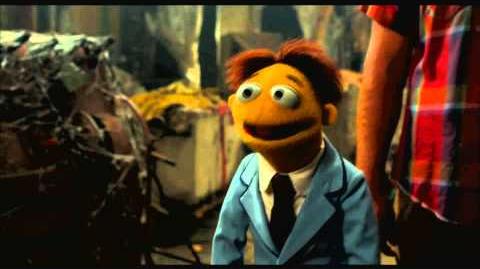 Muppet response
During a United Kingdom press conference for The Muppets' British release, Kermit the Frog and Miss Piggy responded to the controversy. A reporter asked, "I've got to ask you how you felt when — I think it was Eric Bolling from Fox News said it was pushing a dangerous liberal agenda and trying to brainwash children."
Kermit tried to defuse the situation, replying, "I can tell you that's categorically not true. And besides, if we had a problem with oil companies, why would we have spent the entire film driving around in a gas-guzzling Rolls Royce?"
Miss Piggy retorted: "It's almost as laughable as accusing Fox News as, you know, being news,"
"Boy, that's gonna be all over the Internet. You are in such deep water," Kermit said.
Piggy responded, "Yeah. Yeah, if they take what I say seriously, they've got a real big problem."
When the response was featured on The O'Reilly Factor on January 30, 2012, Bill O'Reilly struck back by saying, "Well, we still like the Muppets, but they better watch it."
On December 6, 2011 Bolling (clad with a Kermit puppet) challenged the real Kermit the Frog to a debate (moderated by Donald Trump) on FOX News.(video)
External links
Ad blocker interference detected!
Wikia is a free-to-use site that makes money from advertising. We have a modified experience for viewers using ad blockers

Wikia is not accessible if you've made further modifications. Remove the custom ad blocker rule(s) and the page will load as expected.