Follow That Bird is the soundtrack album for the 1985 film Follow That Bird. This soundtrack not only includes songs from the movie, but also tells the movie's story between the songs. The gatefold cover included a board game. This album won a Grammy Award for Best Recording for Children. The album was reissued on CD in 2000.
Track listing
Side One
Side Two
Board game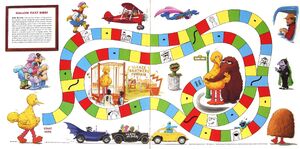 The original 1985 LP record cover opened to reveal a "Follow that Bird" board game. The gameplay and board were similar to that of Candy Land. The board consists of a winding, and intertwining track made of 91 colored spaces and 8 character squares. Players take turns removing the top card from a randomized stack, which indicate one of the four colors, and then moving their marker ahead to the next space of that color. Also, the deck contains one card for each character space, and drawing such a card moves a player directly to that space, either forward or backward. There are several colored squares marked with an arrow. A player that lands on such a square slides forward one additional square (and in some cases can cause the player to cross onto another part of the intertwining path). The board, illustrated by Tom Leigh, is decorated with characters and stars from the film. The goal is to move the tokens ahead to be the first to reach "The End". The game was not included in any of the subsequent re-releases of the album.
Other releases
International Releases
Cast
See also
Ad blocker interference detected!
Wikia is a free-to-use site that makes money from advertising. We have a modified experience for viewers using ad blockers

Wikia is not accessible if you've made further modifications. Remove the custom ad blocker rule(s) and the page will load as expected.