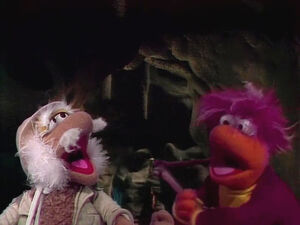 "Follow Me" is an oft-sung Fraggle Rock song about the call of adventure. It is considered to be Gobo Fraggle and Uncle Traveling Matt's signature song.
"Follow Me" was first sung by Traveling Matt and Gobo in "Beginnings," then solo by Gobo in the same episode. The two sang the song together again in "Uncle Matt Comes Home."
In "Born to Wander," we see the origins of the song. Young Traveling Matt sings an upbeat version with modified lyrics ("I Will Follow You") to his idolized Uncle Gobo, and later sings "I Will Follow Me," which is closer to the version we know.
Finally, Gobo sings an abbreviated version of "Follow Me" in "The Trial of Cotterpin Doozer," backed by the rest of the Fraggles.
"Follow Me" was first performed by Philip Balsam on his and Dennis Lee's audition tape for Fraggle Rock.
The song was later resung in a modified form by Gobo and Uncle Traveling Matt in the Fraggle Rock episode "Homebody Matt" when Gobo tries to help Uncle Traveling Matt remember that he is an explorer.
The song was also played in a Jim Henson retrospective montage at MuppetFest.
Philip Balsam and Dennis Lee rewrote the song for the celebration that was held in Jerry Juhl's honor after his death in 2005. The song was one of Juhl's favorite songs from Fraggle Rock. The new version of the song can be heard in the montage that is included in the Special Tribute to Jerry Juhl on the Fraggle Rock: Complete Second Season DVD set.
The song was also sung on Episode 114: Penguin & Kiwi of The Animal Show.
Releases
Audio
Video