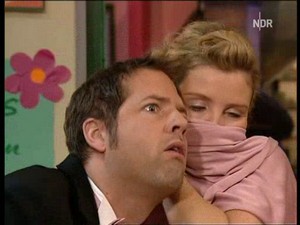 This episode guide has been compiled from incomplete video material.
Picture
Segment
Description

Cold Opening

Intro

Scene
Annette went to the store to get some snack, that she and Nils can have when they are at the opera. Just then perfume salesman Hasi Himmelglück comes by and notice how dressed up Annette are. He tells her that she needs a good perfume, Annette says that she already have one but Hasi claims that it's not good for her. He shows her some form his inventory, however they stink. Rumpel comes to see whats going on and it don't take long before Hasi and Rumpel gets into a argument about how are the best to come up with stinks.

Scene
Rumpel returns with his stink machine, Annette tries to get away but with no luck, she are having problems breathing in the various stinks that Hasi and Rumpel keeps spraying around her. Nils arrives to see if Annette are ready but as soon as he enters the store he faints due to the stink in the air. Hasi thinks that they might be late for the opera and Annette faints as well. Rumepl are delighted that was his "perfume" that won.

Cartoon
A butterfly looses it's color in the rain.

Muppets
"That's What Friends Are For]", Ernie sings to Bert about friends being tolerant of each other's differences, while Bert just wants to sleep.

Muppets
Wolle are pretending to be Tarzan, when the boss asks him to cue the next segment. Wolle swings down to the red control panel and says "Me Tarzan, you button" and pushes it.
(First: Folge 2584)

Film
A girl has visited her father and are gonna fly back to her mother alone.

Muppets
Cookie Monster sings "Eating Cookie" -- there's another reason every season.

Animation
Bert and Ernie's Great Adventures: Ernie and Bert visit the beach with Bertina, Bert's surfer cousin. They are accompanied by Moose, Bertina's hyper-competitive friend. He makes every beach game they play a competition, until Moose and Bertina get taken by the Big Wave. Bert and Ernie go into Lifeguard-mode to rescue them.
(First: Folge 2510)

Film
A high speed film of construction of a house
(EKA: Folge 2391)

Muppets
Grover takes several dogs for a walk, explaining that dogs need exercise as much as people do.
(EKA: Folge 2327)

Muppets
Wolle have invented a new ball machine, when the boss tells him to turn of the lights. Wolle don't want to turn of the lights, since he wants to play with his new machine. Then the machine starts to throw out more balls by itself and Wolle ends-up being knocked into the black button so the lights are turned off.
(First: Folge 2584)
Ad blocker interference detected!
Wikia is a free-to-use site that makes money from advertising. We have a modified experience for viewers using ad blockers

Wikia is not accessible if you've made further modifications. Remove the custom ad blocker rule(s) and the page will load as expected.