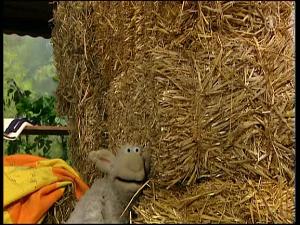 Picture
Segment
Description

Cold Opening
Wolle are stacking cans on top of each other, when the boss asks him to start Sesamstrasse. He tries to push the button without knocking down the cans, but ends-up knocking them down anyway.
(First: Folge 2584)

Intro

Scene
Wolle can't find his fairytale book, but he can't find anything in Pferd's mess. All he finds are Pferd's things.

Scene
As Wolle goes to talk to Pferd, he notice that Pferd as his fairytale book. Wolle has had enough of it, so he starts to build a wall of hay, so that they can get separate rooms in the barn. Pfred do nt mind that and leaves so Wolle can build his wall.

Scene
Wolle have finished the wall and are enjoying the silence. On the other side of the wall Pferd are cooking a carrot omelet, Wolle decides that he are going to cook something delicious as well but he can't find any food on his side of the wall.

Scene
Meanwhile on Pferd's side some Chickens has come by who think that Pferd's omelet smells delicious. Wolle can still smell the omelet, then it's good to have it so clean that you are able to find what you are looking for, Wolle pulls out a clothespin and puts it on his nose and resumes reading jis book. Then he are startled by loud music on the other side of the wall. He starts to yell at Pferd. Pferd can't hear Wolle, since he and the chickens are having a party.

Scene
Wolle decides to climb the wall to see what's going on. But as he tries to get a better look the hay wall collapse under him. Pferd welcomes Wolle and asks him if he has had a good day, Wolle replies that the day could have been better. Pferd notice the wall are broken he offers to help rebuild it. But Wolle tells him that he don't really like the whole idea of a wall. Pferd then asks Wolle to join the party, and they all start to dance.

Cartoon
A dice rolls a horse.
(EKA: Folge 2515)

Muppets
Bert doesn't want to play "The Feelings Game" with Ernie. Ernie expresses both sadness and anger in response to Bert, thus making him a participant in the game after all.
(EKA: Folge 2443)

Muppets
Wolle has dressed up like Robin Hood as he wants to start the next segment with bow and arrow. He fires the arrow at the red button but misses, he quickly take a few more shots that also misses. He decides that next time he will dress up as an Indian as they shoot better and he then goes over to push the button.
(First: Folge 2585)

Film
Three siblings and there friends gets a guided tour in a museum. And afterwards they are gonna make thier own paintings.
(EKA: Folge 2510)

Muppets
Mr. Snuffleupagus sings "There's a Bird on Me" for Athena and other birds.

Animation
Bert and Ernie's Great Adventures:Bert and Ernie are night museum guards, and a lady in a portrait has magically asked them for help. They enter the world of the painting where they discover that she only needs help getting her son Angelo to eat his dinner.
(First: Folge 2502)

Animation
Where is the source of the sound?

Muppets
Mr. Johnson gets a new waiter named Piño, a Spanish-accented monster. Then, Grover comes by, and argues with Piño over which one of them will serve Mr. Johnson.

Muppets
Wolle have disguised himself as a balloon, but can't seem to turn of the lights. The boss asks the children to hold their ears and Wolle float into some pencils that blows the ballon and he can push the black button and turn off the lights.
(First: Folge 2585)
Ad blocker interference detected!
Wikia is a free-to-use site that makes money from advertising. We have a modified experience for viewers using ad blockers

Wikia is not accessible if you've made further modifications. Remove the custom ad blocker rule(s) and the page will load as expected.