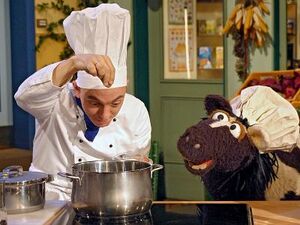 Picture
Segment
Description

Cold Opening
The boss tells Wolle that it's time to push the red button. He then notice the strange setup that Wolle have made. Wolle tells him that it's his "full automatic red button pusher". He activates the machine on the yellow button and the hand slaps Wolle in the back of the head so he hits the red button.
(First: Folge 2581)

Scene
Pferd introduce a very special guest the professional chef Thorsten Topf. Thorsten tells Pferd that he will cook spaghetti with tomato sauce, Pferd think it sounds like a real feast and want to help out, Thorsten then put a chef hat on Pferd. Thorsten then starts to prepare the spaghetti. Rumpel comes by and is told that Thorsten are going to make tomato sauce and spaghetti. Rumpel starts to argue with Thorsten calming that shoelaces in a sauce made on a shoe is a lot better. Rumpel then declares that Pferd have to judge which one of them are the best chef.

Scene
Rumpel goes of to prepare his dish. Meanwhile Pferd are impressed with the boiled salt water.

Scene
Right after Thorsten has put the spaghetti in the boiling water, he and Pferd are covered in a smoke coming from Rumpel's kitchen. The smoke turns out to be coming from the shoe he is preparing for his dish. As Pferd comes over to him Rumpel starts to sing about his dish and Thorsten joins in sining about his dish.

Scene
Pferd have returned to Thorsten, who are now making the sauce, and are telling how well it goes with Rumpel and that his dish are looking really good. Thorsten acts like he don't care. Pferd goes over to Rumpel again and tells him about how well everything goes with Thorsten and how delicious his dish are looking.

Scene
Pferd taste both dishes and are impressed with both of them, while Rumpel and Thorsten argues about who are the best chef Pferd eats the left overs.

Animation
A spider at a museum.

Muppets
Ernie wants to talk about big and small, so naturally he recruits Bert to help. He suits him up with a hat too big for his head while Ernie wears one that's too small. Ernie picks up a tiny box and asks Bert to get the one off-screen which is so big that Bert has trouble carrying it. Finally, Bert wants to demonstrate small this time, so Ernie gives him a bite-sized cookie, only to walk away with an enormous cookie for himself.

Muppets
Wolle is in the shower when the next segment should be cued. The boss calls him in to the control room. Wolle hurries in to push the red button and notices that he has dropped his towel and hurries out again.
(First: Folge 2582)

Film
Two kids shows what there father does for a living, he is a ranger.
(First: Folge 2358)

Muppets
Polly Darton sings about being "Proud and Happy."

Animation
Bert and Ernie's Great Adventures: Bert and Ernie visit their friend Doug in Invisible Land, where nobody can be seen. They're having fun until they're asked to babysit Doug's little sister Zippy.

Cartoon
A story with only "W" words.
(First: Folge 2473)

Muppets
Game Show: Happiness Begins at 40
Guy Smiley gets the Sad Family out of their rut by having them count to 40.

Muppets
Wolle has disguised himself as a rocket as he wants to take off, the boss is not to sure about that. Rocket Wolle takes off, but breaks up as it hits the roof of the control room and Wolle lands on the controls. The boss asks if he is alright, Wolle replies that he is, but he thinks they might have an open skylight now.
(First: Folge 2583)
Ad blocker interference detected!
Wikia is a free-to-use site that makes money from advertising. We have a modified experience for viewers using ad blockers

Wikia is not accessible if you've made further modifications. Remove the custom ad blocker rule(s) and the page will load as expected.