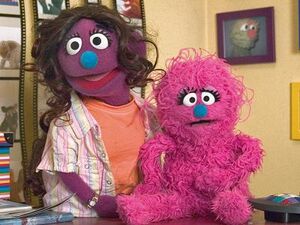 Picture
Segment
Description

Cold Opening
Wolle counts down from five. When he gets to zero he cheers and says "Sesamstrasse time" and pushes the red button.
(First: Folge 2521)

Intro

Scene
Rumpel got the papers for his registration for the Grouch of the year competition and he quickly begins to fill it out. But then he notice that he has to make a video from a typical day. Rumpel are upset as he don't know how to make such a video tape. He then remembers that Moni has a video camera and hurries over to her.

Scene
Rumpel tells Moni that she has to make him a video for his aplication to become Grouch of the year. She would like to help but don't have anyone that can take care of Lena, so she will have to bring her along. Rumpel reluctant accepts and he are sure that they can get it done very fast. But Moni tells him that it will take her awhile to get the things ready that she would need.

Scene
Moni have found her camera and have set it up and Rumpel begins his presentation. Shortly after he started Lena pops-up next to Rumpel and soil her diaper. Rumpel as theres a very nice odor around her. Moni comes in and apologizes to Rumpel and tells him that they can just start over.




Scene
Moni places Lena next to her and restrats the camera, meanwhile Lena slips way again.
Rumpel begins his presentation again and Lena pops-up once more and starts to use the various pots and pans as a drumset. Moni hurries in to stop her daughter and caries her away once more.
Rumpel thinks it was great, but Moni restarts the camera. Rumpel once again starts his presentation and this time Lena pulls down a rope that holds Rumpels extra pots and pans. Rumpel thinks it's great, Lena are a natural talent when it comes to being a Grouch and that he are sure that he will win with lena by his side. Lena begins to talk really fast, and Rumpel are unsure what she are saying. Moni thinks that she are saying that she wants to play with the mud that Rumpel has, and she suggest that Rumpel plays with Lena. Rumple likes the idea and the two of them starts to throw mud at each other. Moni are excited and kinda proud of her little Grouch.

Cartoon
Counting to 10

Muppets
Ernie sings "I Love My Toes."
(EKA: Folge 2484)

Muppets
Wolle is playing on his electric guitar as his boss wants him to cue the next segment. Wolle quickly re-dresses and looks at the viewer, says "on with the show," and hits the red button.
(First: Folge 2518)

Film
Janick and his two smaler siblings visit their father who lives in a trailer

Muppets
Squiggy Marley and the Mud Makers sings "Everyone Makes Their Own Music."
(EKA: Folge 2559)

Muppets
Bert plays a game where he has to match Pigeons.

Muppets
Cookie Monster helps Ernie playing "Ernie Says" open your mouth.

Film

Muppets
Reporter Wolle interviews a dentist about milk teeth and brushing teeth.
(First: Folge 2461)

Muppets
Wolle is sad that Sesamstrasse is finished, when his boss tells him that there's gonna be another episode tomorrow. Wolle cheers up and leaves for the day.
(First: Folge 2518)
Ad blocker interference detected!
Wikia is a free-to-use site that makes money from advertising. We have a modified experience for viewers using ad blockers

Wikia is not accessible if you've made further modifications. Remove the custom ad blocker rule(s) and the page will load as expected.