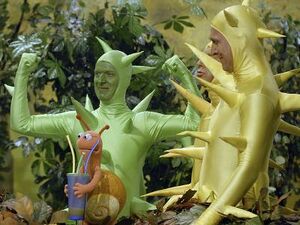 | Picture | Segment | Description |
| --- | --- | --- |
| | Scene | Nils is sick and he tells Finchen that he has tried everything to get well, but he has decided to take a nap and let the Antibodies (including guest star Michael Kessler) do their work. |
| | Scene | While Nils sleeps Finchen discovers Nil's antibodies sleeping on his pile of leafs. |
| | Scene | They tell him they are to tired to do any work, but getting some vitamins might help. |
| | Scene | Finchen fetches some oranges from Nil's shop and makes them some orange juice. |
| | Scene | Afterwards the march over to were Nil's is sleeping and vanishes in puff of smoke. |
| | Scene | Shortly after Nils wakes up feeling better. Finchen tells Nil's that he has given orange juice to the antibodies, Nil's laughs at thos at first, but then he gets the taste of orange jucie in his mouth. |
Ad blocker interference detected!
Wikia is a free-to-use site that makes money from advertising. We have a modified experience for viewers using ad blockers

Wikia is not accessible if you've made further modifications. Remove the custom ad blocker rule(s) and the page will load as expected.