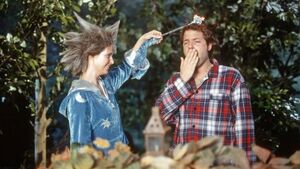 Picture
Segment
Description

Cold opening
Wolle is sleeping in his chair and at first he doesn't hear his boss asking him to start Sesamstrasse. The boss starts an alarm, waking Wolle up, who hastily hits the red button.
(First: Folge 2520)

Intro

Scene
Finchen and Nils can't sleep. Nils thinks it feels like he has forgotten how to sleep, he decide to go inside the store and read a book. Someone moves around in the forest behind Finchen, it turns out to be Leonie the sleep fairy who have lost her wand, and thats the reason why Finchen and Nils can't sleep. Finchen suggest her to remember where she used the wand last, she are sure that she used it in the forest so they go and search for it together.

Scene
They notice a bird that are sleeping and Leonie says that she remember using the wand on it, so they begin the search there but with no luck. Leonie then remembers that she also used the wand at Rumpel's barrel.

Scene
They look into the barrel and wakes up Rumpel by accident. Leonie throws some stardust on Rumpel so that he will go back to sleep and have a good dream. Leonie then remember using the the wand at the cave.

Scene
They notice the wand that are wedge in the rocks above the opening to Samson's cave.

Scene
Leonie uses the wand and star dust on Finchen. Nils comes out again, he can still not sleep. Finchen wakes up and tells Nils about the sleep fairy Leonie. Nils don't belive her and then Leonie sneaks up behind Nils waving the wand and throws star dust on him. Then all of a sudden Nils feels very tired and goes to bed.

Cartoon
Drawing a parrot.
(EKA: Folge 2409)

Muppets
Die Grosse Sesamstrassen-Musikshow: An Italian wolf sings a song about spaghetti with a chorus of chickens.
(First: Folge 2461)

Muppets
Wolle is playing on his electric guitar as his boss wants him to cue the next segment. Wolle quickly re-dresses and looks at the viewer, says "on with the show," and hits the red button.
(First: Folge 2518)

Film
Linda prepares for her confirmation.
(First: Folge 2375)

Muppets
"The Elephant Elevator Operator"
(EKA: Folge 1855)

Animation
Bert and Ernie's Great Adventures: Ernie and Bert have been hired to take care of a dog.

Cartoon
(EKA: Folge 2453)

Muppets
The Count introduces the number of the day - 17, and thinks Oscar can help demonstrate it. Oscar, of course, says no. The Count begins prodding Oscar more and more so he can count 17 "no"s.

Muppets
Wolle declares the day to be over and pushes the black button, all the lights in the control room go out, and he fumbles towards the door.
(First: Folge 2519)
Ad blocker interference detected!
Wikia is a free-to-use site that makes money from advertising. We have a modified experience for viewers using ad blockers

Wikia is not accessible if you've made further modifications. Remove the custom ad blocker rule(s) and the page will load as expected.