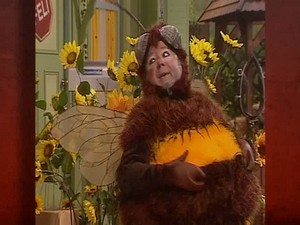 Picture
Segment
Description

Cold opening
As the boss asks Wolle to push the red button to start the Sesamstrasse episode, he is searching under the table for something. It turns out that he found a red button, so he can start the show. The boss tells him that it's the wrong kind of a button, but Wolle pushes it anyway, and the show begins.
(First: Folge 2519)

Intro

Scene
Samson and Pepe are having breakfast together and Samson are really looking forward to get some honey on a slice of bread. However he discovers that the honey jar are empty. Pepe says that he will get some from the shop, but Samson tells him it's closed Nils and Helen are not home. Pepe gets an idea he can conjure up some honey. Pepe casts the spell and some red honey appears in the jar, Samson are concludes it tastes just like ketchup. Pepe tries again and this time Pepe are turned into a bee. Samson are really hungry and he are still missing the honey, he then notice something close to them. Pepe tells him its the place were bees keep their honey. Samson asks if theres honey in it, but Pepe tells him that the bees have to make it first.

Scene
Pepe are collecting pollen from the nearby flowers, Samson can't understand why it can become honey and Pepe begins to sing a song about making honey. Samson are still very hungry and really wants to return to their breakfeast, but Pepe are not sure that he want's to be turned back to normal as he are enjoying being a bee. Samson tells him that theres no need for him to be a bee since the honey are finished. Pepe turns himself back to normal and goes over and treis scrape of some honey for Samson however when he comes back theres not even a spoonfull and Pepe tells him that it might take some time. Samson starts to consider if he should have some jam instead.

Animation
Two penguins builds a horse.

Muppets
Ernie keeps catching fish, and Bert doesn't, so Ernie tries moving to a different place on the boat, then not using bait, then just quitting. When Bert finally catches something, it is only a note that reads: "What happened to your friend?"
(EKA: Folge 2448)

Muppets
Wolle is about to sneeze as his boss asks him to start the next segment. Wolle is still about to sneeze, so his boss tells him "Gesundheit!" and Wolle stops and says that he has not sneezed yet. Just then he sneezes and hits the red button that cues the next segment.
(First: Folge 2516)

Film
Kids talks about reading

Muppets
Don Music pitches a new song to Meryl Sheep, hoping she will sing it in one of her productions. The song is directly about the beginning, middle, and end of itself. Once its finished, Meryl rejects using it; she doesn't do musicals.
(EKA: Folge 1640)

Animation
Bert and Ernie's Great Adventures:Bert and Ernie gets a little to far out from the beach on their air mattress, luckily theres a little island close by that they can reach.

Film
Highspeed film showing Sheep wool being cut.
(EKA: Folge 2477)

Muppets
Kermit sings "Get Along" with some Anything Muppet greasers, the Martians, the Twiddlebugs, and a cow.
(EKA: Folge 2088)

Muppets
Wolle is sad that Sesamstrasse is finished, when his boss tells him that there's gonna be another episode tomorrow. Wolle cheers up and leaves for the day.
(First: Folge 2518)
Ad blocker interference detected!
Wikia is a free-to-use site that makes money from advertising. We have a modified experience for viewers using ad blockers

Wikia is not accessible if you've made further modifications. Remove the custom ad blocker rule(s) and the page will load as expected.