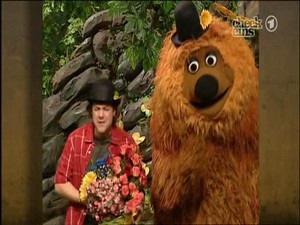 Picture
Segment
Description

Cold opening
Wolle is sleeping in his chair and at first he doesn't hear his boss asking him to start Sesamstrasse. The boss starts an alarm, waking Wolle up, who hastily hits the red button.
(First: Folge 2520)

Intro

Scene
Samson found a basket with a flower garland in his cave, he has decided that he want to decorate the square outside his cave. As Samson fails to throw the garland onto a tree, Nils arrives after getting new oranges from the market for the store. Nils wish Samson good luck with his decorating project and starts to carry the boxes of oranges into the store.

Scene
Samson tries to throw it again and he still can't manage to do it on his own. He can't understand why it so hard to do. Meanwhile Nils' are having problems of his own, the boxes breaks and the oranges falls out on the ground.

Scene
Samson are still struggling with the garland, this time he has entangled himself in it. Meanwhile Nils tries to pick up all the oranges at the same time and keeps drooping them on the ground. Nils notice that Samson are entangled in the garland and asks if he needs help, but Samson says that he can see that Nils has plenty to see to on his own, but Nils goes over and frees Samson from the garland. They then start to sing about being a decorating team and finish decorating the square outside the cave.

Scene
Samson likes the decoration, and then he helps Nils picking up the oranges while they sing that they are a good orange team.

Cartoon
The dancing birds dance fast and slow.
Artist: Karen Aqua

Muppets
Grover and Ernie star in a parody of Hill Street Blues, where the frustrated police chief has a hard time getting his force to split into pairs of two.

Muppets
Wolle has put on a tree costume, as his boss asks him to start the next segment. Wolle is having difficulties reaching the red button. Then he gets an idea, he yells "timber!" and as he falls down he hits the button.
(First: Folge 2519)

Film
Kids talks about watches.

Muppets
Ethel Mermaid sings "I Get a Kick Out of U".

Animation
Bert and Ernie's Great Adventures: Ernie and Bert are camping when two Yip yip aliens comes by and thinks that Ernie's Rubber Duckie are the planets leader.

Muppets
Prairie Dawn plays the piano for a pageant about food. Elmo plays an asparagus (a role that would, years later, be performed by Telly). Herry Monster is stuck in a fish costume that's "three sizes too small" and was made by his mom. Leo the Party Monster portrays a potato (mentioning that potato chips make a great party food). Telly, in the role of milk, carries a full pitcher of milk on his head and is concerned about spilling it. When he proudly concludes he managed to say his lines without making a mess, Herry tells him to take a bow. Telly does so, and gets the milk all over Prairie's hair!

Muppets
Wolle is sad that Sesamstrasse is finished, when his boss tells him that there's gonna be another episode tomorrow. Wolle cheers up and leaves for the day.
(First: Folge 2518)
Ad blocker interference detected!
Wikia is a free-to-use site that makes money from advertising. We have a modified experience for viewers using ad blockers

Wikia is not accessible if you've made further modifications. Remove the custom ad blocker rule(s) and the page will load as expected.