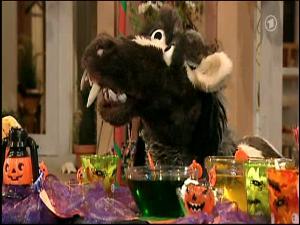 Picture
Segment
Description

Cold Opening

Rumpel noitice some carved pumpkins, he knows that the other want to hold a Halloween party, but he does not know why. He decides to take two of the pumpkins with him. Lena notice Rumpels outside but Nils misunderstands her warning. Nils starts to explain to Lena and the viwer that Halloween is an American tradition, were you dress up and have spooky decorations.

Intro




Scene

Samson begins to put the caved pumpkins in various locations, he says that they are very important for Halloween. He notice that there are missing a few, but that don't matter. Then a pumpkin rolls away from him and over to Pferd, who thinks the pumpkin looks very delicious. Just as Pferd are about to eat the pumpkin Samson stops him.
Rumpel returns for a few more carved pumpkins, once again Lena notice it and ties to wan Nils, but he misunderstands it and think that Lena are excited for the party.
Over at Rumpel's corner he declares that his big Grouch party will soon begin. He starts to phone to his fiends and family to invite them to his party.

Scene

Samson, Nils and Lena have gotten their costumes on and Nils are very impressed by how Samson have decorated everything. Samson tells Nils about the missing pumpkins, Lena quickly starts to try and get their attention, Nils suspect that maybe Pferd have something to do with the missing pumpkins. Samson decides to talk to Pferd and goes looking for him, meanwhile Nils and Lena goes off to find some music.
Pferd then arives to the party, but can't understand were everybody have went, he decides the best thing to do are to wait for them. But shortly after he beings to feel quite tired. After Pferd falls asleep Rumpel comes to fetch more pumpkins for his Grouch party.

Scene

Samson retuns and finds Pferd sleeping, he notice that the last pumpkins are also missing. Pferd wakes up and Samson tells him how disapointed he are that Pferd have ate the pumpkins, Pferd tries to explain that the pumpkins were there when he fell a sleep. When Nils and Lena returns Pferd continues to try and convince them that he is innocent. Finally Lena manages to get Nils attention and then realizes what she has been trying to do, they all go over to Rumpel's corner.




Scene

Rumpel are on the phone with Oscar, but Oscar don't have time to come to Rumpel's party. The others the come storming in and discover their pumpkins. He tells them that he did not know they planned to use those pumpkins, he then realizes that they are all dressed very Grouchy, Nils explains that it's their Halloween costumes. Rumpel tells them that he are having a Grouch party all by himself since no-one was able to come. Nils suggest that they all have a Grouch Halloween party.
Rumpel are sharing his famous Grouch punch with the others and are surprised that a Halloween party was going to be so Grouchy. He wishes everyone a happy Halloween, and they all drink some of the punch, and quickly spits it out again.

Scene

Ernie and Bert are watching it all from the balcony. Bert concludes that the Halloween party has everything but spooky music. Ernie thinks thats a good idea and suggests that Bert goes down there and play something on his tuba.

Film

Kids talks about Halloween

Cartoon

A tiger looses it's color in the rain.
(EKA: Folge 2412)

Muppets

Ernie wants to know if Bert will still be his best friend if he has a hat, jumps around saying mashed potatoes. Bert stops him and says that he will be his best friend no matter what. Ernie then decides that he won't do those things anymore. Instead he wants to have a fish on his head, dance and saying hippity hoppity.
(EKA: Folge 2404)

Cartoon

(EKA: Folge 2415)

Muppets

Reporter Wolle visits a children theater, to find out what goes on at a theater. He oversees the rehearsal for the play "Mio, my Mio" based on the book by Astrid Lindgren.

Animation

Bert and Ernie's Great Adventures: Bert and Ernie are chariot racers in ancient Rome. They must race Porkus Maximus and Horsus, the fastest racers in the Empire. All they've got is Fred the donkey to pull their chariot. They discover that every time they make Fred laugh, he sprints faster than any horse could. Now they need to make sure they keep Fred laughing in order to catch Porkus Maximus.

Muppets

Elmo demonstrates running.