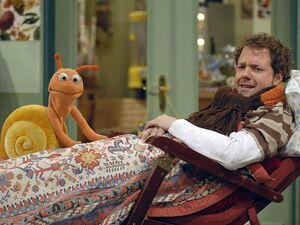 Picture
Segment
Description

Cold opening
Ernie stops Bert from eating a apple, since it could be a magic apple. So Ernie is going to it for him, by tasting it. After eating the apple Ernie comes to the conclusion that it was not a magic apple.
(EKA: Folge 2400)

Intro

Scene
Nils is sick and he tells Finchen that he has tried everything to get well, but he has decided to take a nap and let the Antibodies do their work.

Scene
While Nils sleeps Finchen discovers Nil's antibodies sleeping on his pile of leafs.

Scene
They tell him they are to tired to do any work, but getting some vitamins might help.

Scene
Finchen fetches some oranges from Nil's shop and makes them some orange juice.

Scene
Afterwards the march over to were Nil's is sleeping and vanishes in puff of smoke.

Scene
Shortly after Nils wakes up feeling better. Finchen tells Nil's that he has given orange juice to the antibodies, Nil's laughs at that at first, but then he gets the taste of orange juice in his mouth.

Film
Kids talks about being sick.

Cartoon

Muppets
Die Grosse Sesamstrassen-Musikshow: Pferd sings about how he invented fruit juice by accident in his lab.

Film
A high speed film about a banana that perishes over time.
(EKA: Folge 2421)

Muppets
Wolle visits the children's ward at a hospital to find out how a doctor works. (EKA: Folge 2400)

Animation
Les devinettes de Reinette: The answer to Reinette's riddle are a chameleon.

Muppets
Kermit the Frog goes to see his doctor, who listens to his heart. Describing what he hears as "groovy," the doctor sings "Heart of a Frog" about different kinds of noises (backed by frog nurses)
Ad blocker interference detected!
Wikia is a free-to-use site that makes money from advertising. We have a modified experience for viewers using ad blockers

Wikia is not accessible if you've made further modifications. Remove the custom ad blocker rule(s) and the page will load as expected.