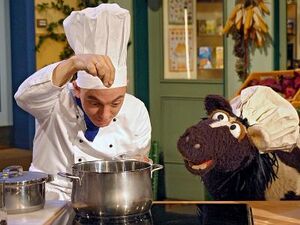 Pferd has invited the chef Thorsten Topf to show how he prepares his famous spaghetti with tomato sauce. Rumpel claims to be a better chef than Thorsten, so they compete to prepare the best dish with Pferd as the judge.
Segments
Mr. Johnson wants a hamburger, but Grover strongly suggests that he order the tomato surprise instead. Mr. Johnson relents, and asks for the tomato surprise, only to find that it means a giant, talking tomato will be dining with him. Surprise! (EKA: Folge 2302)
Ernie feeds some seagulls and they bring him a sandwich to thank him.
Reporter Wolle are looking closer at a chocolate factory
Lisa weighs a few kilos too much, she and her father do a workout.
Ad blocker interference detected!
Wikia is a free-to-use site that makes money from advertising. We have a modified experience for viewers using ad blockers

Wikia is not accessible if you've made further modifications. Remove the custom ad blocker rule(s) and the page will load as expected.