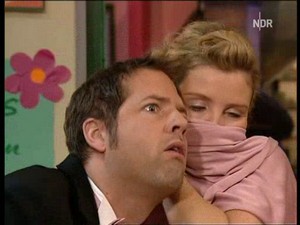 | Picture | Segment | Description |
| --- | --- | --- |
| | Cold Opening | Bert suggests that he and Ernie share the last piece of chocolate cake. Ernie has a better idea: he takes the cake and Bert can have the plate. To Ernie's surprise, Bert likes the idea since the plate looks wonderful. |
| | Intro | |
| | Scene | Annette goes to the store to get some snacks that she and Nils can have when they are at the opera. Just then, perfume salesman Hasi Himmelglück comes by and notices how dressed up Annette is. He tells her that she needs good perfume. Annette says that she already has one, but Hasi claims that it's not good for her. He shows her some from his inventory, although they stink. Rumpel comes to see what's going on and it doesn't take long before Hasi and Rumpel get into a argument about what is the best way to come up with stinky smells. |
| | Scene | Rumpel returns with his stink machine. Annette tries to get away but with no luck. She is having problems breathing in the various smells that Hasi and Rumpel keep spraying around her. Nils arrives to see if Annette is ready but as soon as he enters the store, he faints due to the stinky smells in the air. Hasi thinks that they might be late for the opera and Annette faints as well. Rumpel is delighted that his "perfume" won. |
| | Film | Kids talks about various smells and what they remind them about. |
| | Muppets | Ernie and Bert sing "Rub Your Tummy." |
| | Film | High speed film of growing cress. |
| | Muppets | Wolf vom Wörtersee wants to make dinner for the Wörterfee: spaghetti with tomato sauce. However, the Wörterfee would like something else, and she challenges him to come up with a dish that begins with "B", since it's her favorite letter. Wolf goes shopping with his two friends. They find many things that start with "B", but Wolf will only have something that reminds him about spaghetti. Finally, he finds something he can use and hurries home. It turns out that he found some Bandnudeln (Tagliatelle), which he serves to the Wörterfee with tomato sauce. |
| | Cartoon | A dice rolls a cellphone. |
| | Muppets | Prairie Dawn plays a game in her home with Cookie Monster, where Cookie must locate a cookie without seeing it. Wearing a blindfold, Cookie is able to identify the cookie, a plate, and a telephone by feeling them, smelling them, and eating them. |
| | Cartoon | Connie the Cow search for berries that her grandmother can use to make jam. |
Ad blocker interference detected!
Wikia is a free-to-use site that makes money from advertising. We have a modified experience for viewers using ad blockers

Wikia is not accessible if you've made further modifications. Remove the custom ad blocker rule(s) and the page will load as expected.