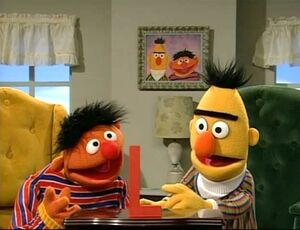 The Wolf vom Wörtersee are making spaghetti and tomato sauce, however he do not notice the letter "I" that he by accident places in the sauce. The Wörterfee appears and asks the Wolf if he can help her locate her missing "I", just then Wolf tastes his sauce and by coincidence eats the "I", afterwards he can only say words that contain "I's". They try to scare him and hang him upside down with no effect. They then suggest he eats letter biscuits except the "I", he refuses and return to the lake. Were the Wörterfee realizes that he has eaten the letter, she does some magic and the I leaves Wolf. The Wörterfee then asks him if he has sen a "U", Wolf don't care he is hungry and wants to eat his spaghetti, however the "U" is in his spaghetti.
Ad blocker interference detected!
Wikia is a free-to-use site that makes money from advertising. We have a modified experience for viewers using ad blockers

Wikia is not accessible if you've made further modifications. Remove the custom ad blocker rule(s) and the page will load as expected.