Ad blocker interference detected!
Wikia is a free-to-use site that makes money from advertising. We have a modified experience for viewers using ad blockers

Wikia is not accessible if you've made further modifications. Remove the custom ad blocker rule(s) and the page will load as expected.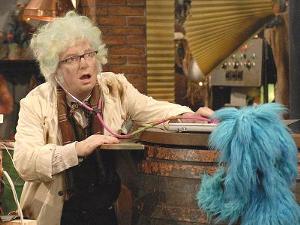 Feli's laptop have crashed. She seeks advise from Professor Rumprad Guse, Rumpel's uncle and the inventor of the first Grouch computer in the world. The professor introduce her to the G1 model, a marvel of the modern Grouch technology, however it soon becomes clear that the professor are reluctant to let Feli get to close to the G1. However Feli does learn a few tips she can use on her own laptop.
Segments
Bert can not believe that Ernie are using a banana as a mobile phone. (First: Folge 2368)
Herry Monster helps Cookie Monster explain why cookies fall down.
Reporter Wolle visits a plant nursery to see flowers grow.
Connie the Cow learns how to crack nuts from a squirrel.
At night, Ernie gets creative inspiration to write a poem about what he likes, but has trouble with finding a word that rhymes with "dirt."