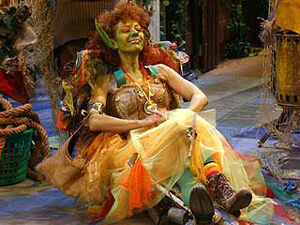 | Picture | Segment | Description |
| --- | --- | --- |
| | Scene | Rumpel are admiring the junk garden around his barrel, however Nils don't exactly agree with him on that. They then hear a loud scream. It turns out that the scream comes from a junk fairy, who has decided to spend the night in Rumpel's junk garden. Rumpel gets excited, and Nils tries to calm Rumpel down by saying they will find away to get rid of her. However Rumpel are happy with her being there as it's a honor for a Grouch to have a junk fairy living in their junk garden. However there are room for improvement in Rumpel's jubk garden the fairy notice a big screws laying nicely in a box, Rumpel quickly empties it out. Nils quickly says goodnight and leaves. |
| | Muppets | Ernie has an important note for Bert, but he can't find it. He looks through the trash can for it, and finds the note, which is a reminder that it is Bert's day to clean the apartment. |
| | Cartoon | One of the things do not belong here. |
| | Scene | Rumpel are starting to get annoyed by the fairy, she are quite loud. Nils comes and asks if Rumpel can tell the fairy to be quiet, he can't sleep when she are yelling. Just then the fairy notice a shining trey, Rumpel quickly covers it with dust. |
| | Film | Two kids collect some of their old toys and sells it at a fleamarket. |
| | Muppets | Elmo helps Grover say the alphabet. |
| | Film | Kids make a giant Letter Z. |
| | Scene | Rumpel are working hard to keep the fairy happy, he are making sure that all his junk are dirty and he are getting tired of it. However just as Rumpel have complained about the hard work to Nils, the fairy awards Rumpel with 1 out of 5 points for having a good junk garden. Rumpel don't get to celebrate for long, the fairy has found some old hubcaps that could be a little more rustier and the fairy has decided that she will stay for another night. Rumpel are unsure what he thinks about it, Nils tries to convince Rumpel that now that he had gotten one junk point, they should try and get rid of the fairy. Nils tries to be nice towards the fairy and asks her politely to leave, however she likes the place to much to leave, but it could do with some good Grouchy music. Nils gets a cassette player and plays a quiet little song, but the player eats the tape and the fairy likes that grouchy sound. |
| | Film | Kids play music while cleaning using the vacuum cleaner hose, broom, dustpan and rags. |
| | Muppets | Cowboy Wolle will attempt to capture a wild horse with his lasso. But cowboy Wolle has problems with his aim and ends up capturing himself. |
| | Animation | A clay animation story about a mob, and how it likes to paint with water on the tile floor. instead of cleaning. |
| | Muppets | The Cereal Girl sings about her missing "Hair Brush." |
| | Scene | Nils suggest that Rumpel should be nice, maybe then she would leave, Rumpel objects at first, but decide that it is worth a try. Nils and Rumpel then tries to pretend to be nice to each other, but Rumpel hare having difficulties with it and it ends up in a argument that the fairy enjoys. |
| | Film | Tim takes kids shopping for potatoes so they can make mashed potatoes |
| | Scene | While the junk fairy sleeps, Nils has convinced Rumpel that in order to get rid of her they need to clean up all the junk, then there would be no reason for her to be there anymore, so they clean everything up. Nils then wakes her, she screams right after she notice that all the junk are gone. And she decides that she need to get away from Sesamstrasse in a hurry. Both Nils and Rumpel are very happy, until Nils says that now it will be nice and quite on the street. Rumpel then realizes what they have done, they have cleaned up the area around his barrel, and he quickly starts to do something about it by trowing junk around. |
Ad blocker interference detected!
Wikia is a free-to-use site that makes money from advertising. We have a modified experience for viewers using ad blockers

Wikia is not accessible if you've made further modifications. Remove the custom ad blocker rule(s) and the page will load as expected.