Ad blocker interference detected!
Wikia is a free-to-use site that makes money from advertising. We have a modified experience for viewers using ad blockers

Wikia is not accessible if you've made further modifications. Remove the custom ad blocker rule(s) and the page will load as expected.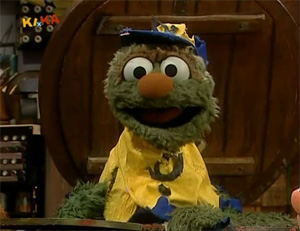 Picture
Segment
Description

Scene

Rumpel have written a dust letter that he want to mail to himself. However when he gets to the mailbox theres a sign saying that the mailbox won't be emptied this week. While Rumpel complains about the sign Samson and Finchen comes by, Rumpel tells them about his plan and that he can't use the mailbox. Samson suggest that Rumpel makes his own mailbox.

Muppets

Ernie tries to help a mailman deliver a letter to Mrs. Mary Ann ABCDEFGHIJKLMNOPQRSTUVWXYZ.
(EKA: Folge 2227)

Cartoon

What comes next ?

Scene

Samson and Finchen has helped Rumpel with making his very own Grouch mailbox, and he can now finally mail the letter. However Samson reminds him that he should really use a Grouch stamp.

Film

Kids are writing and mailing letters, to the beat of the music.

Muppets

Elmo watches as Grover tries to demonstrate next to with a wily mailbox which keeps moving away from Grover. When they can't catch it, Elmo points out that he and Grover are next to each other.

Scene

Rumpel are looking in his barrel for a Grouchy stamp, but he can't find anything he can use as a stamp. Finchen suggest one of his finest leafs from his leaf pile, but Rumpel refuse to use it. Samson suggest that he should use a huge piece of wood, again Rumpel refuse it. Rumpel then proceeds to explain what a Groucy stamp should be like, then Finchen notice a paper from a can of sardines, Rumpel agrees that are real Grouch stamp. And Rumpel finally mails his letter in his Grouch mailbox. Samson would like to know who are gonna empty the mailbox, Rumpel says that would of course be himself. However Finchen tells him that before he can be a mail man he needs a uniform.

Cartoon

A plane writes the letter "V" on the sky.

Film

A kid from the Fiji-islands, talks about a letter they got.

Animation

A clay animation about a pair of glasses that tried to read a paper.

Scene

Rumpel tries to find something fitting he could use as a Grouch mailman uniform.

Film

A close-up of a pen

Muppets

Phil Harmonic introduces Charmin', who performs an opera about the fax machine.
(EKA: Folge 2021)

Cartoon

A tap dancing penguin.

Scene

Mailman Rumpel empties the mailbox, and starts to sing a song about being a Grouch mailman, as he walks over to his barrel to deliver the letter. Finchen and Samson can't understand why Rumpel would mail a letter for himself, now he knows whats inside the letter without even opening it. Rumpel says that you don't open a dust letter, and he gives a demonstration what you do with a dust letter as he bangs on the letter and dust fills the air around them.