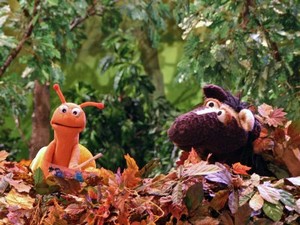 | Picture | Segment | Description |
| --- | --- | --- |
| | Scene | Pferd are excited, it's his birthday today, and he are sure all the others are planing a big party for him. He are very curious about it, so he decide to find out what they are planing. He goes over to Wolle, Finchen and Samson and asks what they are planning for his birthday. They tell him that if they said it it would not be a surprise and they leave. |
| | Scene | Annette]] are playing on her piano and he goes over to her. As he attempts to start a casual conversation with her, she interrupts him and asks if he are trying to find out what he are gonna get for his birthday, and he leaves. |
| | Scene | Pferd are looking over at Finchen and her leafpile, when he hears a big boom from Rumpel's corner. He then camouflages himself and attempts to sneak up on Finchen. But just as he comes up behind Finchen she notice him. Pferd then sees Samson and Nils sneaking around the shop and he decides to go over to them. But as soon as they see him they close the blinds in the shop. |
| | Scene | Pferd has disguised, himself as a window cleaner and tries to ask Annette about the birthday party they are gonna have for a inhabitant on the street. But Annette has no problem seeing through his disguise. He then tries to see if he can get some information out of Rumpel, but that don't happened either. |
| | Scene | Everyone are gathered around Annette's piano and as Pferd passes they start to sing a song about a curious horse. After the song they give Pferd a birthday card and a cake. Just as Pferd are eating his card Rumpel gets everyones attention as he are about to present the best thing, fireworks then goes off around his barrel. Pferd start to cry of happiness. |
Known segments
Ernie won't let Bert into the apartment. At first, Bert is sad -- but then he thinks Ernie might be hiding something, which makes him mad. He demands to be let in -- and finds that Ernie has thrown him a surprise party, which makes him happy.
Grover has to blow out the candles on his birthday cake 400 times, but since this is Part 1, he only gets up to 40 before he faints. The conclusion has to wait until next time.
Prairie Dawn gives Grover thirty seconds to show what someone looks like when they are surprised, much to his exasperation.