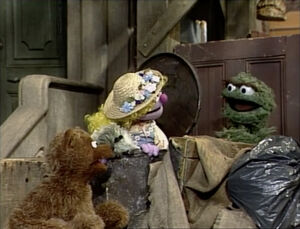 Rumpel becomes upset when his family visits Sesamstrasse.
Baby Bear finds an empty trash can and decides to live there, but finds Goldilocks is already inside, tidying up the place. Oscar comes back and tells them both to leave his trash can alone. Baby Bear expresses his anger about her through song and how she makes him "cwazy". Oscar thinks different and finds it lovely he has someone to make him feel so grouchy. He runs off in a huff and Oscar is shocked to learn his favorite broken chair has been fixed by Goldilocks. (from episode 2909 of Sesame Street) (EKA: Folge 2069)
Waiter Grover prepares a table for a family, who is celebrating their grandmother's birthday, but Grover doesn't know her name, so when each family member refers to her as a different relative, Grover thinks there's more than one party going on, so he ends up bringing out six cakes. (EKA: Folge 1654)
Ad blocker interference detected!
Wikia is a free-to-use site that makes money from advertising. We have a modified experience for viewers using ad blockers

Wikia is not accessible if you've made further modifications. Remove the custom ad blocker rule(s) and the page will load as expected.