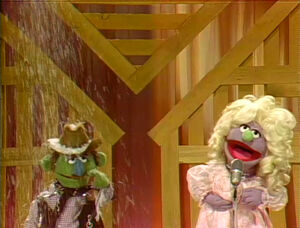 News anchorman Kermit concludes his news program with a weather report by their new news anchor, Simon Soundman, whom does a weather report using sounds for different kinds of weather (wind blowing, a foghorn for fog, rain and thunder for a rainstorm,). Kermit fires him and calls for another weatherman, who has a more "visual" approach to reporting the weather.
Bert attempts to go under Ernie's umbrella while it's raining however; Ernie pushes Bert away from the umbrella every time he explains how the rain can make him feel happy, sad, and angry. Bert agrees with Ernie when he mentions angry because it turns out Ernie has Bert's umbrella. Ernie leaves holding Bert's umbrella without Bert who is left soaking in the rain.
Ad blocker interference detected!
Wikia is a free-to-use site that makes money from advertising. We have a modified experience for viewers using ad blockers

Wikia is not accessible if you've made further modifications. Remove the custom ad blocker rule(s) and the page will load as expected.