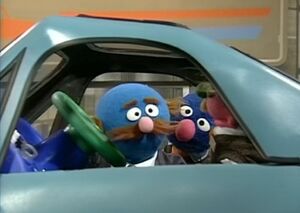 Elmo wants a car with the loudest engine the fastest wipers, a very special horn and a lion on the roof.
Mr. Johnson wants to rent a car for going to Chicago, Grover shows him a variety for cars that he can choose from. When no car suits him, Grover gives him a piggyback ride to Chicago.
Ernie encounters a sobbing Beautiful Day Monster, who is crying because his ukulele is broken. Ernie shows him a few things one can do with a broken ukulele, but that doesn't stop the monster from crying. Ernie then offers to fix the ukulele. (EKA: Folge 0840)
Ad blocker interference detected!
Wikia is a free-to-use site that makes money from advertising. We have a modified experience for viewers using ad blockers

Wikia is not accessible if you've made further modifications. Remove the custom ad blocker rule(s) and the page will load as expected.