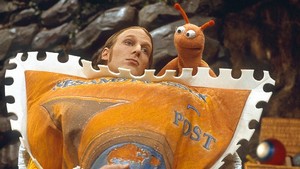 Picture
Segment
Description

Scene
Nils helps Finchen with a letter that she wants to send to Ella, who are on vacation. After Nils has put the stamp on the letter he goes back to the shop. Finchen then notice that the stamp are missing on the letter and begins to search for it. She finds the stamp standing close by and it turns out that the stamp are really looking forward to go on the long journey, but there's one little problem the stamp don't know how to prepare for a journey. Finchen decides to help the stamp.

Scene
The stamp finds some garden chairs and a table that he would like to take with him in case he wants to relax. Finchen are not sure that it's the right things to take on a journey so she decides to go and ask Nils.

Scene
Finchen asks Nils what you bring on a journey, Nils only manage to say that you should bring a suitcase before Finchen hurries away again. Finchen returns to the stamp and tells him about the suitcase. The stamp goes to look for a suitcase but only finds a box, but what to put into it. The stamp decides to put in a plant and a ball, so that he has something good to look at and something to do. Finchen tells him that if she was going on a journey she would bring her favorite leaf, so that it could keep her company. Finchen gives the stamp one of her leaves since he don't have any. But what else to bring, Finchen goes back to ask Nils.

Scene
Nils tells Finchen that she should also bring some food, and asks her where she wants to go. Finchen tells Nils that it's not her that are going on a journey, but the stamp.

Scene
Finchen returns to the stamp with some things that Nils have packed. The stamp then begins to sing about making a journey. After the song the stamp wonders where he are going and Finchen shows him the address on the letter. Finchen looks away for a short moment at the stamp has returned to the letter and next to the original stamp there's a new stamp with the items that they have packed for the journey.
Finchen posts the letter and Nils comes by to ask if she posted the letter. Finchen tells him that it's underway and that it also took the vegetables with him. Nils gets a little confused and Finchen laughs.
Known segments
Ernie tries to help a mailman deliver a letter to Mrs. Mary Ann ABCDEFGHIJKLMNOPQRSTUVWXYZ.
Clementine and Buster get on a train, and try to tell Forgetful Jones that he's supposed to get on the train with them, but Forgetful Jones would much rather remember on his own why he's at the train station. The train leaves just as Forgetful remembers why he's there.
A colonel tells Simon Soundman about his trip around the world in 80 days without any sleep. He keeps falling asleep when describing the weather, and Simon "corrects" him with appropriate weather sounds.
Cartoon: Tina's letter has a long way to China
Ad blocker interference detected!
Wikia is a free-to-use site that makes money from advertising. We have a modified experience for viewers using ad blockers

Wikia is not accessible if you've made further modifications. Remove the custom ad blocker rule(s) and the page will load as expected.