Ad blocker interference detected!
Wikia is a free-to-use site that makes money from advertising. We have a modified experience for viewers using ad blockers

Wikia is not accessible if you've made further modifications. Remove the custom ad blocker rule(s) and the page will load as expected.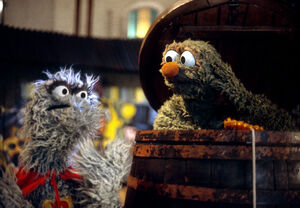 Picture
Segment
Description

Scene

Rumpel are excited Super-Grautsch are visiting Sesamstrasse and he are gonna tell a story about something he has done. Super-Grautsch starts the story about when he went into a dark forest and hears a ratteling noise. Just then Rumpel and Gustav hears a noise down the street, shortly after he also hears something strange.
Near the store Pferd are busy eating various vegetables and knocking over a few crates in the process. Rumpel are scared, but then comforts himself with the fact that Super-Grautsch are there to take care of it.

Scene

Rumpel are sure that Super-Grautsch will be able to solve the source of the ghostly sound. He asks Super-Grautsch about his plan, Super-Grautsch quickly replies that the plan are very secret.

Scene

Rumpel will document Super-Grautsch heroic deed with his camera and takes a picture of Super-Grautsch. The flash are so powerful that Super-Grautsch runs away, but then realizes what he has done when Rumpel asks him what he are doing and quickly explains that he are doing some exercises. Super-Grautsch suggest Rumpel that they will hunt the ghost with a superhero song. The two Grouches then sings the song while looking for the ghost

Scene

Rumpel thinks that Super-Grautsch are very brave and just them they hear a sound and Super-Grautsch quickly starts to shake of fear.




Scene

Rumpel are sure that they are closing in on the ghost, when they hear a chewing sound. The sneak closer, while Super-Grautsch tells Rumpel that you have to be very careful around a chewing ghost and they quickly take cover as something are moving in front of them. Pferd pops up still eating grapes. The two Grouches decide to move even closer, when Rumpel gets an idea about who the ghost are. He calls Pferd out and sure enough Pferd appears next to them. Rumpel introduce Pferd to Super-Grautsch, who quickly declares the case closed. Pferd asks them if they are also so hungry that they can't sleep, Super-Grautsch quickly replies that Rumpel and Gustav where so scared of the ghostly sound that they needed his help. Rumpel agrres Super-Grautsch are a superhero.
Known segments
While Bert is reading, Ernie tries to scare him by dressing up as a ghost. When Ernie notices that Bert left his chair while he fetched a white sheet, Ernie sits down in the chair and relaxes, until Bert enters the room and startles him.
Super Grover decides to teach Elmo how to be a superhero. However, Elmo wears his cape the wrong way, which causes him to trip whenever he wants to fly.(EKA: Folge 1998)