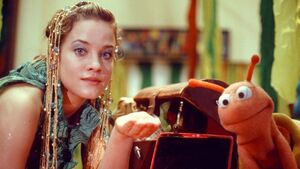 Finchen are to look after Ella's seashell. She has had it for a long time but have been unable to open it, the story says that it contains a treasure. Finchen drops it in a vase filled with water that cause the shell to open up. Muriel, a water nymph appears. She sings a song to Finchen about being underwater and hands Finchen a perl and the disaaper back into the shell.
Ad blocker interference detected!
Wikia is a free-to-use site that makes money from advertising. We have a modified experience for viewers using ad blockers

Wikia is not accessible if you've made further modifications. Remove the custom ad blocker rule(s) and the page will load as expected.