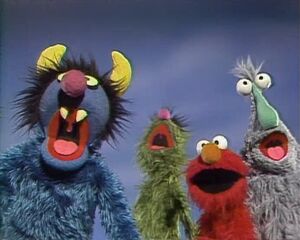 Grover works at a bakery. Mr. Johnson gets a slip and is customer 40. Grover tells him to wait until he calls his number, which frustrates Mr. Johnson because there is nobody else in the bakery--except for a Green Anything Muppet woman who has a 39 slip.
The Twiddlebugs don't understand why they are getting all wet, while Mommy Twiddlebug isn't. They soon learn it's because she's inside the house. After they all huddle inside, Ernie finishes watering his plants.
Ad blocker interference detected!
Wikia is a free-to-use site that makes money from advertising. We have a modified experience for viewers using ad blockers

Wikia is not accessible if you've made further modifications. Remove the custom ad blocker rule(s) and the page will load as expected.