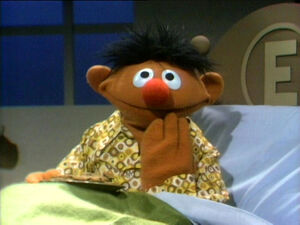 News Flash: Kermit interviews a servant who tells him that the queen wants to test the maiden by placing a cookie under the mattresses to see if she can feel it. The princess (Cookie Monster) lies down, feels it, and devours the mattresses.
Bert tells Ernie not to eat cookies in bed, because he might get crumbs in the bed. Ernie decides to eat cookies in Bert's bed instead. (EKA: Folge 1421)
Cartoon: The detective sees a hippo bouncing on a trampoline, and wonders how the hippo can bounce, since hippos are heavy, but the hippo thinks that he is light.
Cartoon: How to know a hippo when you see one.